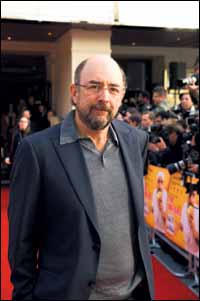 FILMING WAS A LOT OF FUN: Richard Schiff
www.infidelmovie.com
ACTOR Richard Schiff's dramatic family background may have contributed to his decision to become an actor.
His maternal grandfather escaped from the Austro-Hungarian army, while his paternal one was a gangster associated with the New York mob of Meyer Lanksy and Bugsy Siegel.
"He died when I was 11 and he was the closest person I had in my life," Richard said.
"I was told that it was a heart attack, but he had died mysteriously on the streets of Brooklyn.
"We were not a religious family, but we sat shiva out of respect for him.
"I remember a bunch of guys in pinstripe suits coming to the shiva."
Richard's aunts later told him that his grandfather had been assassinated because he owed money to "everybody".
"But the grandfather I knew would give away his last five bucks - he was the most generous man, so I don't know what to believe," he said.
Richard also found out that the police had shot him for running rum during America's Prohibition period in the 1930s.
He said: "He was a practising Jew and used to put on his tefillin every morning.
"I would be interested to find out more about him, but I don't have enough access to research materials."
Richard was speaking to the Jewish Telegraph the morning after the London premiere of The Infidel.
The 54-year-old stars as American taxi driver Lenny Goldberg, who helps Muslim Mahmud Nasir (Omid Djalili) after he discovers he was born Jewish.
Richard said: "I was sent the script and, much to their shock, I guess, I agreed to do it.
"I was not hesitant about taking the role having spoken to David Baddiel, the film's writer, and director Josh Appignanesi.
"Filming it was a lot of fun and I don't think it is scathing of religion - it is almost innocuous.
"The subject may be an intense one and I think it was handled in a gentle way."
The Infidel is a story about two communities - Jewish and Muslim - and Richard feels his New York upbringing helps him to empathise with different ethnic groups.
He explained: "I believe in the idea of a melting pot.
"I grew up on New York's West Side, where there was just about every different type of ethnic group going.
"That taught me not to make quick judgements about people based on face value.
"I have always looked for what I don't see straight away."
Richard's passion for acting took off in the mid-1970s when he studied acting at the City College of New York.
His mother, Charlotte, worked in the animation department at Columbia Pictures and would bring home cells of cartoons such as Mr Magoo.
Richard said he was inspired by films of the 1960s and 70s, especially those starring Al Pacino and Dustin Hoffman.
"Films completely affected me for hours - nothing else had such an affect - and I was curious as to why this happened," he remembered.
Before acting, he directed off-Broadway plays. He met his wife Sheila Kelley while working on Antigone in 1983.
He later appeared in TV programmes and films, including LA Law, Speed, Se7en and NYPD Blue before being cast by Steven Spielberg in 1997's The Lost World: Jurassic Park.
But it is perhaps his role as White House communications director Toby Ziegler in the hugely popular The West Wing that he is best known.
"It is a far cry from the 1970s when I was demonstrating against the White House and its policies," Richard recalled.
However, thanks to his role in the political drama, which started in 1999, Richard has had a change of opinion.
He said: "I met Bill Clinton and his staff and I got to know them.
"It led me to a different feeling - that they were devoted to their task of making the world a better place.
"Having said that, it is not a pure environment by any means."
Richard had endorsed Democrat Joe Biden in the 2008 American election campaign, before he dropped out.
He then put his support behind Barack Obama's bid.
He continued: "Because of The West Wing, I think I have a voice.
"It is my responsibility to do something with that ability.
"I am not a Democrat by way of official membership, but I am an Obama supporter."
It did not come as a surprise to Richard that the series became so popular, mainly, he says, due to the writing of creator Aaron Sorkin and the work of director Thomas Schlamme.
"As well as the writing and directing, most of the actors have worked in theatre and so could be creative and could interpret things," Richard explained.
"We are lucky to have the likes of Martin Sheen (who played fictional President Josiah Bartlet) and the dear John Spencer, who died in 2005."
Richard lives in Los Angeles with Sheila and children Gus and Ruby.
Richard is a man not just preoccupied with acting, but with an interest in global politics too.
He recently spent eight days in Moscow doing research for his new project - about jailed Jewish Russian oligarch Mikhail Khodorkovsky.
Richard said: "I am fascinated by his story and will probably write something to do with it.
"While I was interviewing people in Moscow, my interpreter, who was sitting next to me, texted me to say that someone from the FBS (the successor to the KGB) was sitting behind me and monitoring me.
"I was also in the courtroom at one of Khodorkovsky's hearings and the place was full of machine gun-toting soldiers and police.
"It was interesting, but scary stuff."