ISRAEL was the destination for Louis Abrahamson, who celebrated his barmitzvah at the Western Wall last month.
Son of Ruth and Ashley Abrahamson, of Alwoodley, Louis is a pupil at Allerton High School.
A keen drummer, Louis is a dedicated sportsman, playing football for Leeds Maccabi, tennis and golf. His hobbies also include his computer.
Grandparents Elisa Silverton, Martin Abrahamson, Christine and Christopher Thompson together with numerous family and friends travelled from Leeds to attend the simcha.
Louis has an older brother, Oliver, 15, who attends the Grammar School at Leeds.
---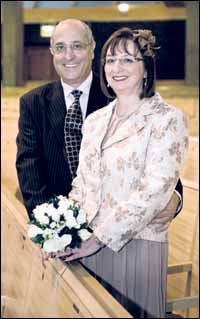 Picture: Charles Yacoub
THE wedding of Susan Smaje and Mike Goodman took place at Beth Hamidrash Hagadol Synagogue on Sunday.
And for Susan, who is the daughter of Joyce and Sydney Frazer, of Alwoodley, it was the perfect day as it coincided with her birthday.
An optometrist by trade, Susan met Newcastle jeweller Mike, son of the late Joseph and Mildred Goodman, on a blind date in Leeds four years ago.
Best man was David Lawton and 18 bridesmaids included Steph Smaje, Nicola Smaje and Joanne Holmes.
One of the younger bridesmaids was Naomi Holmes, while pageboys were Jake, Leo and Jonah Smaje together with Noah Holmes.
Guests travelled from Israel, Scotland, northern and southern England for the simcha.
The couple are on Honeymoon in the Lake District and will settle in Leeds.
---
DAREDEVIL sports fan Adam Bush was barmitzvah at Beth Hamidrash Hagadol Synagogue on Shabbat.
Adam, the son of Helen and Stephen Bush, of Alwoodley, is a pupil at the Grammar School at Leeds.
A keen tennis player and golfer, Adam follows Super League champions Leeds Rhinos supporter and loves anything to do with fast cars and aircraft. Indeed, he is set to join the RAF cadets next year.
Adamís grandparents, Jackie and Bryan Bush and Joan and Mike Stevens, together with 10-year-old sister Lana joined guests from Sydney, Toronto and all over the UK at the simcha.