STEADY EDDIE: The Liverpool Haroldeans team from 1972 with keeper Eddie Clein, kneeling second left
WHEN Jarod Clein donned the yellow and black of Manchester Jewish Soccer League side Liverpool Haroldeans for the first time this season, he was continuing a legacy which began in 1950.
For the youngster was playing in the same position as his grandfather, Alderman Eddie Clein, had done for 37 years.
Eddie recalled: "I played from 1950 to 1987 and I retired on my 50th birthday. I also played for three years for AJEX when we won absolutely everything. Jared is seemingly following in my footsteps.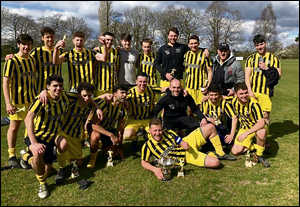 TOP STOPPER: Today's Liverpool Haroldeans with keeper Jarod Clein

PICTURE: GABI JOHNSON

"There is quite a dynasty of Cleins playing for Haroldeans, as my brothers, Paul and Mark, played regularly in the 1970s and 80s.

"My son, Jeremy, also played for the first team from the age of 14 and even became top scorer in the league before he was 17 — he went on to have two trials for Tranmere and was the MJSL's outstanding player for a few seasons in the 1980s."

With Haroldeans sitting at the top of the MJSL, there could be another few trophies sitting in the Clein cabinet come the end of the season.